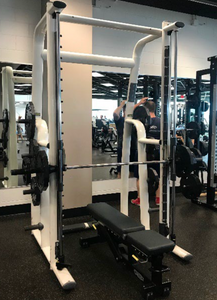 Used Equipment.  Fully Functional.  Standard signs of use.
The Multipower lets you perform a wide variety of assisted exercises. The specific features of its counterbalanced barbell, locked in a vertical movement, make it suitable for both beginner and advanced weightlifters.
Technical Specifications: 
For a shipping quote, please message us with:
1.  Zip Code
2.  Is this a commercial or residential location?
3.  Will you need a lift gate at delivery or is there a loading dock, forklift, tractor, etc.?