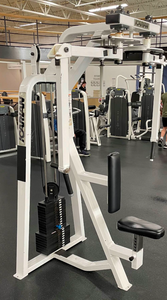 Used Equipment.  Fully Functional.  Standard signs of use.
The Icarian selectorized line by Precor offers sturdy, commercial quality, professional strength equipment that is built to last through thousands of repetitions. The Icarian Rear Delt/Pec Fly features unique floating pivot arms and a starting position range of motion (ROM) device.
Precor's Icarian Strength Line is a rugged and versatile 23-piece variable resistance strength training circuit. The Icarian Strength Line makes it easy for everyone to begin and progress. Attention to biomechanics, comfortable touch points, and easy-to-use adjustments let users of all fitness levels experience smooth, fluid motion.
A Precor Icarian Rear Delt and Pec Fly is, and can best be described as follows: A Pec Fly-Rear Delt is a plate-loaded or selectorized piece of gym equipment designed to strengthen the Pectoral and Deltoid muscles of the chest during Strength Training. The user is typically seated, with elbows slightly bent and arms outstretched, grasping handles placed at shoulder height, and lifts the loaded or selected weight by bringing the handles together in front of the face while keeping the elbows at a constant angle.
Machine Classification: 
Technical Specifications: 
For a shipping quote, please message us with:
1.  Zip Code
2.  Is this a commercial or residential location?
3.  Will you need a lift gate at delivery or is there a loading dock, forklift, tractor, etc.?