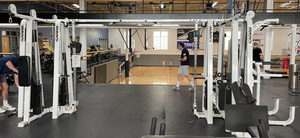 Used Equipment.  Fully Functional.  Standard signs of use.
** ALL NEW CABLES**
The 8 Stack Unit consists of the following stations:
Cable Crosover (2 Stacks)
Lat Pulldown (1 Stack)
Row (1 Stack)
Dip / Chin Assist (1 Stack)
Adjustable Pulley (1 Stack)
Tricep Station (1 Stack)
2nd Tricep Station (1 Stack)
The Icarian Multi-Stations by Precor offer multiple configurations of exercise stations including: Pulldown, Longpull, Adjustable Hi/Lo Pulley, Non-adjustable Hi/Lo Pulley, Pushdown, Cable Crossover, Adjustable Cable Crossover, and Dip/Chin.
Precor's Icarian Strength Line is a rugged and versatile 23-piece variable resistance strength training circuit. The Icarian Strength Line makes it easy for everyone to begin and progress. Attention to biomechanics, comfortable touch points, and easy-to-use adjustments let users of all fitness levels experience smooth, fluid motion.
A Precor Icarian 8 stack Multi Station is, and can best be described as follows: A Multi-Station is a piece of weight training equipment comprised of various multi-zone selectorized workout stations in a connected framework that allows multiple users to workout at the same time. An 8 Stack Multi-Station has 8 weight stacks that can be arranged in several different configurations and frequently includes a cable crossover option.
Machine Classification:
Technical Specifications:
For a shipping quote, please message us with:
1.  Zip Code
2.  Is this a commercial or residential location?
3.  Will you need a lift gate at delivery or is there a loading dock, forklift, tractor, etc.?