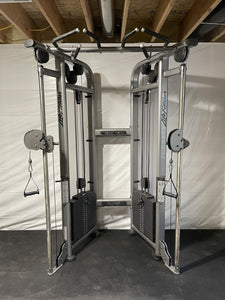 Life Fitness Signature Series Dual Adjustable Pulley - Functional Trainer.
Used in great condition. Fully functional. Standard signs of use
The Signature Series Dual Adjustable Pulley has a weight stack that delivers a 1:4 resistance level to provide lower starting resistances for less experienced users. It allows for high-speed movements for sport-specific training and it can be customized to suit your training needs. Cable Motion™ Technology employs user-defined paths of motion that allow for a nearly endless variety of strength training options that builds balance, stability, and power.
TECHNICAL SPECIFICATIONS
Cables 7x19 strand construction, lubricated, nylon-coated cable meets U.S. military specifications
Cushioning Contoured cushions utilize a molded foam for superior comfort and durability
Frame Description 11-gauge steel frame ensures maximum structural integrity
Each frame receives an electrostatic powder coat finish to ensure maximum adhesion and durability
Standard rubber feet protect base of the frame and prevent the machine from slipping
Hand Grips Grips retained with aluminum collars, preventing them from slipping during use
Hand grips are a durable urethane composite
Instructional Placards Easy-to-follow instructions illustrate proper use and muscles trained
Pulleys 4-1/2" (11 cm) and 6" (15 cm) diameter fiberglass-impregnated nylon pulleys feature sealed bearings
Shrouds Standard rear shrouds, Optional front shrouds
Weight Plates and Guide Rods Solid-steel weight plates. Top weight plate is fitted with self-lubricating bushings
7/16" (11 mm) diameter weight selector pin magnetically locks in place and is connected to stack to prevent loss
Product Code CMDAP
Dimensions (L x W x H) 44 in x 62 in x 95 in (112 cm x 158 cm x 242 cm)
Weight 1,265 lb (574 kg)
Weight Stack Weight in kgs 195
Weight Stack Weight in lbs 390
Suspension Training Manufacturer REQUIRES that this product be secured to the floor when used with body weight strap training products to stabilize and eliminate rocking or tipping over
Message for freight quote. Will need to know:
* Zip Code
* Commercial or Residential location
* Is a lift gate needed or do you have a loading dock / forklift / way to get pallet off freight truck