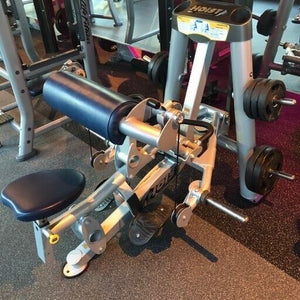 Used Equipment.  Fully Functional.  Standard signs of use.
Hoist ROC IT Plate Loaded Preacher Curl RPL-5102
Dynamic adjustment is the essence behind the new ROC-IT™ line from HOIST®. Using ROX™ technology, the user becomes an integral part of the exercise by continuously adjusting the position of the user with the movement of the exercise arm. As a result, the ROC-IT line embodies a unique training experience that achieves the unrestricted joint movement and core activating benefits of functional training coupled with the stabilizing benefits of machine-based equipment. Try it out for yourself and experience the ride of the ROC-IT line!
Exercise arms move independently for alternating curls
Self-aligning exercise arms automatically adjusts to the user
Contoured handles provide multiple grip positions
Rocking movement provides a greater range of exercise motion
Labeled pivot alignment points
Ratcheting seat adjustment
Product Width: 54.75" (140 cm)
Product Height: 47.00" (120 cm)
Product Length: 58.75" (150 cm)
Machine Weight: 362 lbs. (165 kg)
For a shipping quote, please message us with:
1.  Zip Code
2.  Is this a commercial or residential location?
3.  Will you need a lift gate at delivery or is there a loading dock, forklift, tractor, etc.?