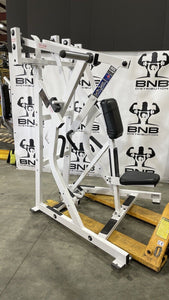 Used Equipment.  Fully Functional.  Standard signs of use.
HAMMER STRENGTH
PLATE-LOADED ISO-LATERAL LOW ROW
The Plate-Loaded Iso-Lateral Low Row was blueprinted from human movement. Separate weight horns engage independent diverging and converging motions for equal strength development and muscle stimulation variety. It provides a unique path of motion that contrasts with the decline press.
TECHNICAL SPECIFICATIONS


Standard Weight Horns
6
Starting Resistance
8 lbs (3.6 kg)
Frame Description
11-gauge steel frame ensures maximum structural integrity; Each frame receives an electrostatic powder coat finish to ensure maximum adhesion and durability
Dimensions (L x W x H)
50 in x 48 in x 66 in (127 cm x 122 cm x 168 cm)
Weight
For a shipping quote, please message us with:
1.  Zip Code
2.  Is this a commercial or residential location?
3.  Will you need a lift gate at delivery or is there a loading dock, forklift, tractor, etc.?