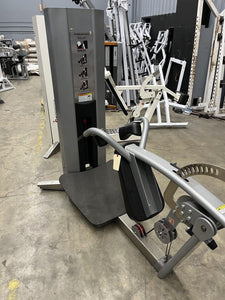 Free Motion Squat Commercial Gym Equipment in Excellent condition
**THIS IS ONE OF THE ONLY SQUAT / PRESS MACHINES I CAN DO WITHOUT KNEE PAIN
The Free Motion Squat targets muscles in the lower body and core. Functionally trains the muscles of the legs and trunk to work together and builds stabilizer muscle strength to protect hip, knee and ankle joints.
FEATURES
Contoured Platform - Unique platform design enables users to maintain correct ankle alignment and is textured to ensure stable foot placement.
Shoulder Pads - Contoured shoulder pads swivel and slide to comfortably fit a wide variety of users.
Weight Carriage - Backrest design helps users to maintain proper form and is counterbalanced for easy positioning.
Handbrake Release - Hand release disengages the weight stack for safe, easy entry and exit of the machine.
Weight Engagement - Weight carriage ratchets down and engages the weight stack when the user begins exercise.
Weight Stack - Enclosed weight stack limits access to moving parts for user safety.
Industrial Construction Equipment is built with 11- and 7-gauge steel and is electrostatic ally powder-coated.
Kick Plates 16-gauge, stainless steel kick plates protect the machine from wear and tear.
TECH SPECS
Weight: 996 lbs
Dimensions: 94" L x 42" W x 73" H
Message for freight quote. Will need to know:
Zip Code
Commercial or Residential location
Is a lift gate needed or do you have a loading dock / forklift / way to get pallet off freight truck