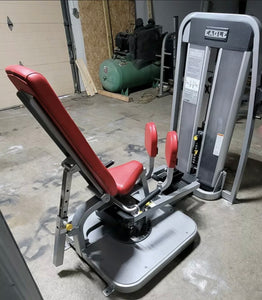 Cybex Eagle selectorized strength line is the evolution of superior technology combined with a passion for fitness. There is no comparable strength line in the industry - Eagle is beyond the other's best. Starting with exhaustive research in human biomechanics and applying the Cybex heritage in sports medicine, Eagle is the ultimate way to "faster fitness results". One machine does the work of two. The dual function design – both abduction and adduction in one machine – saves valuable floor space. The innovative adjustable back pad angle allows the hip to be placed in full extension. This means users can focus on very specific muscle groups to train just where it's needed. The "Slack free Drive System" provides immediate engagement which broadens the range of motion because resistance begins as soon as the exercise begins. Users do not end up in a wider split their comfort zone nor do they get partway through the motion before weight is engaged. Having the weight stack in the front of the machine serves as a privacy shield, particularly important to women. Minimized knee stress results from using knee pads as inputs which also keeps knees centered in the pad. In addition to knee pads, dual foot positions accommodate varying user heights. The seated rather than standing position is a comfortable secure position for the user.
Features
Second Generation Dual Axis Technology: This second generation technology adds a converging/diverging element to CYBEX Dual Axis Technology's user defined path of motion. The versatility of this technology helps the everyday user or the serious trainer achieve greater results by delivering consistent torque throughout the range of motion to maximize the effect at the muscle, with less stress to the joint.
Ergonomic Leg Pad Adjustments: These innovative designs make positioning the input pad intuitive and virtually effortless. This results in easily accessible machines that are adjusted with little exertion or movement.
Range Limiting Device: This CYBEX patent-pending technology ensures that regardless of starting position selected, the cam is synchronized with each individual user. It matches their performance level, maintaining the integrity of force throughout the range of motion while taking into account their limits and abilities. Start RLD (adjustable start only) provides start positions every 10 ̊ . Total RLD (adjustable start and finish) provides start and end positions every 10 ̊ .
Contoured Molded Pads: Ergonomically contoured molded pads provide better support for a variety of
movements, as well as a more contemporary overall look.
Fully Enclosed Weight Stacks: Enclosed weight stacks help shield bystanders and users from inadvertent contact with the moving weight stack, creating a safer workout environment. The fully enclosed stacks give a sleek appearance and comply with ASTM and EN standards.
Drive System Design: A "Best Use" drive design incorporates three methods of transferring force to provide a direct feel and optimal performance. Belt, cable and drive shafts are chosen for their capabilities in specific applications.
Gas Assist Adjustments: Eagle's four-bar linkage design combined with gas spring assist makes it possible to adjust the seat height and back position without requiring the user to get off the machine. The seat base and seat backs have position indicators to enable the user to perfectly duplicate their position on the machine each time they use it.
Second Generation Twist Select Increment Weight System: Patent-pending system allows user to adjust the weight 5 pounds (2.5 kg) at a time with a simple turn of the knob—nothing to slide, drop or lose. System is also completely balanced for drag free operation and includes integrated oiling capabilities, resulting in reduced time and mess associated with guide rod maintenance
Variable Resistance: The resistance profile of each movement has been designed into the machine, assuring that the resistance provided mirrors the body's capability throughout the range of motion. Engineered for Safety The safety of every user is essential to our success and yours. The entire Eagle line complies with ASTM and EN standards.
Dry Grip Technology: Non-absorbent gripping material provides extra security for your grip.
Molded Rubber Feet Rubber: feet protect your floor and help keep your machines in place.
Dual cams are optimized for the movement and allow for single resistance selection for both movements
Innovative design feature allows back to be positioned in full hip extension to optimally train gluteus maximus and medius during hip abduction
Weight stack serves as privacy shield
Knee pads as inputs minimize knee stress
Dual foot bars accommodate a broad range of user heights
TECH SPECS
Weight Stack: 205 lbs (93 kg)
Machine Weight w/ Standard Stack: 705 lbs (320 kg)
Dimensions: 69" L x 34" W x 57" H
Cybex Eagle abductor & adductor combo inner/outer thigh. This is a two-in-one unit and an excellent space saver. This machine is very popular with all types of people from soccer moms to competitive bodybuilders. Machine targets muscles and areas of the muscle that no other machine or free weight exercise can. Trains your hips, glutes, quads, hamstrings and obviously, the adductors and abductors. This unit is Kevlar belt driven, built like a tank and very smooth. This unit is in excellent condition and perfect working order.
Message for freight quote. Will need to know:
Zip Code
Commercial or Residential location
Is a lift gate needed or do you have a loading dock / forklift / way to get pallet off freight truck