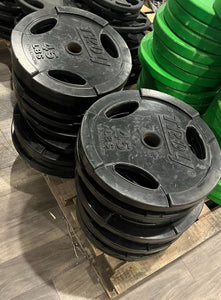 This is an offer for 20 x 45 lb interlocking grip plates which is a total of 900 lbs.
Troy "The Brand of Iron ™" was made for the most rugged strength programs. Delivering the best in free-weight and strength equipment for full commercial applications. The Troy product line offers a portfolio of equipment that include Dumbbells, Barbells, Plates, Heavy-Duty Racks, and a wide variety of accessories for endless amounts of Training programs.
Design to a high standard with innovation to match the athletes who use it. Troy can take the pounding that the most elite athletes can deal out. The Troy product line is made to match the strength of its namesake from ancient Greece. That's why it is tested to go through the most brutal training programs and stand the test of time.
Our Troy premium grade, "Quiet Iron® EZ-lift" grip plates set the standard for excellence with their unique design, exceptional quality and durability. The odorless, virgin rubber surface protects floor and equipment while the interlocking feature allows one to lift, lock and load more plates onto bars and machines. Troy GO-R plates are accurate within 2% plus or minus of actual weight.
For a shipping quote, please message with:
1.  Address
2.  Commercial or Residential Location
3.  Will you need a lift gate, or is there a loading dock, forklift, tractor, etc?